What Are The Commonest Utilities Of Sodium Suphide Flakes?
Posted by Admin on January, 14, 2015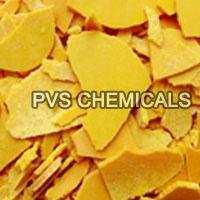 Sodium sulphide flakes are mainly utilized for catering to different industrial applications and thus they are in high demand these days. This kind of chemical is being utilized for a number of applications and thus you need to choose the specific quality of the chemical in order to meet your specific purpose. It can create powerful alkaline solutions and in some cases it is also required for making the water, absolutely refined and purified.

What is the basic nature of this chemical?
Polysulfides are found within this chemical and thus the color seems to be yellow all the time. Hydrogen sulphide is emitted from this chemical, if it is left air-exposed, as a result of which you can get a smell of rotten eggs. When it remains in its solid form, its color is yellow, while its liquid form is absolutely colorless. You must use the same with great care as it is strongly alkaline and hence, skin burns can happen.

On the other hand, if it gets in touch with any acid, then in that case toxic hydrogen sulphide can be produced, which is highly hazardous to deal with. In most of the cases, this chemical is utilized for laboratory use and is preserved in a special manner to avoid different kinds of dreadful consequences. This chemical is represented by the chemical formula, Na2s. This chemical is the strongest form of sodium and thus gets quickly dissolved in water. This is the reason water purification can be effectively done with the help of the same.

What are the common uses of sodium sulphide?
Kraft process, which is conducted in paper and pulp industry, is absolutely incomplete without the usage of this chemical and thus it is being used out there. With the help of this chemical, the paper can be easily recycled in order to create fresh paper.
The agent of the oxygen scavenger present within this chemical is highly useful in water treatment process.
It is also used in the photography industry for the effective toning of white and black photographs.
It is also used in textile and leather industries. Dechlorinating, desulfirising and bleaching of textiles can be gained by using the same. On the other hand, tanning extract sulfitisation can also be done with the help of this kind of potential chemical.
Other applications include sulphur dye and rubber chemical production, oil recovery, detergent making and ore flotation.
This entry was posted on January, 14, 2015 at 16 : 54 pm and is filed under Sodium Sulphide Flakes. You can follow any responses to this entry through the RSS 2.0 feed. You can leave a response from your own site.