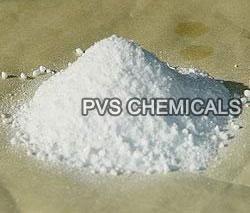 Barium carbonate powder is a chemical compound which is manufactured by the soda ash method. Under this method, barium sulfide is treated with sodium carbonate between the temperatures ranging from 60°C to 70°C. It can also be produced by treating the barium sulfide with carbon dioxide at a higher temperature. The chemical formula of barium carbonate is BaCO3. It also termed as witherite and it appears in the form of white crystals. It is named after William Withering, who introduced this mineral to the world.


Barium Carbonate Powder is extensively used in various industrial applications like-
It is a major input for the production of rat poison

It is used by the sugar industry for the purpose of refining the sugar.

Barium carbonate powder is widely employed for the production of glass and porcelain.

Barium carbonate is widely used in the ceramics industry for making glazes, tiles, bricks, etc.

This chemical compound is added to clays for making pottery and earthenware.

It is widely used for the production of barium salts. These salts are formed from the reaction of barium carbonate hydrochloric acid.

This powder is capable of eliminating the sulfates in the manufacture of phosphoric acid, tartaric acid, and chlorine alkali electrolysis.

It is widely used as an aid in the reactive processing

It is highly used in the welding electrode coating and making pyrotechnical products.

The production of dyes, enamel, optical glass pesticides, etc. can't be imagined in the absence of barium carbonate powder.

This powder is used in chloro-alkali industry for cleaning brine.

Unique colors in ceramics can be produced only with the help of barium carbonate powders, as other alternatives fail to achieve the desired results.
Properties of barium carbonate
Odorless

White in color

Insoluble in Water

Soluble in acids

Insoluble in alcohol

Toxic
Safe handling
As barium sulfate is toxic in nature, it can instantly dissolve in the stomach acid. It should be dealt with utmost care and prudence as the consumption of this powder can cause serious health issues like puking, severe pain in the abdomen, giddiness, pounding heartbeats, increased blood pressure, panting, increased salivation, and much more.
The entities engaged in offering this powder should offer it in a superior grade packing material like HDPE bags in order to avoid the chances of contamination or spillage during the transit and storage. Thus, we can conclude that barium carbonate contributes majorly towards the production of various industrial products.