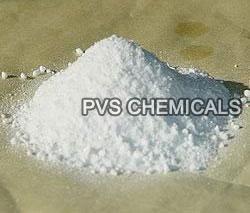 Barium Carbonate, amorphous powder is typically white in color and odorless or granular. It is partially insoluble in water, insoluble in alcohol and soluble in solutions of acids. There are a very few manufacturers which are considered as one of the reliable Barium Carbonate Manufacturers on the market. The Barium Carbonate Manufacturers offer the best quality raw materials. It is necessary to make sure that Barium Carbonate Powder is packed safely in packaging bags with proper labels. The White Barium Carbonate offered by manufacturers is mostly used in reactive processing as an aid. It is very useful in welding electrode coating and especially in making pyrotechnical products. It is used for a number of purposes, such as:-


· It is used for multiple purposes such as manufacturing of ceramics for improving scratch resistance, Ferro alloys, and manufacturing glass.
· Another important usage that it is used in is in the Chloro-alkali industry for cleaning brine and for making barium nitrate, Barium chloride and much more.
· It is also used for manufacturing glass so as to improve refraction and resistivity to scratch. Barium carbonate is the main component in the brick and tile industry.


· They are also used for removing sulphates for example, from industrial effluents. Other than that barium carbonate is used in the ceramic industry for producing unique colors and in earthenware and pottery industries as they can be easily combined with clay.
Barium carbonate can be manufactured from natural barium sulphate practically known as barite. With its widespread use, it has become an important part of various industries. Therefore, it is of utmost importance that the Barium carbonate powder that is used be of the best possible quality. This implies that the Barium carbonate manufacturer should be reliable and trustworthy. This powder has lots of purposes, which can be hampered if not obtained in the right form.
This can be guaranteed with the best of the chemical manufacturers. With its wings spread across over every other manufacturing industry, it has made its place in the list of mostly required compounds. The range of chemicals and flakes consists of Barytes Powder, Barium Carbonate Powder, Wattle Solid, Sodium Carbonate Powder, Chrome Sulphate Powder, and Sodium Sulphide Flakes among others. There are a number of manufacturers, suppliers and exporters who offer best quality of raw materials as it is very necessary to use the quality product during the production. There are lots to this particular powder than what meets the eye.